Top Window Treatments For Double Hung Windows In Dallas
In the event Dallas has pleasant weather, it's wonderful to find clean air and sunshine entering your home from the open upper sash of your double-hung windows. It's important to note, standard window treatments are designed to obstruct the upper pane when you pull them down for privacy.
If you want seclusion without restricting air and light at the top, install versatile plantation shutters or top-down/bottom-up cellular or Roman shades. These window treatments for double-hung windows in Dallas offer optimal command of the light, airflow and privacy of your space.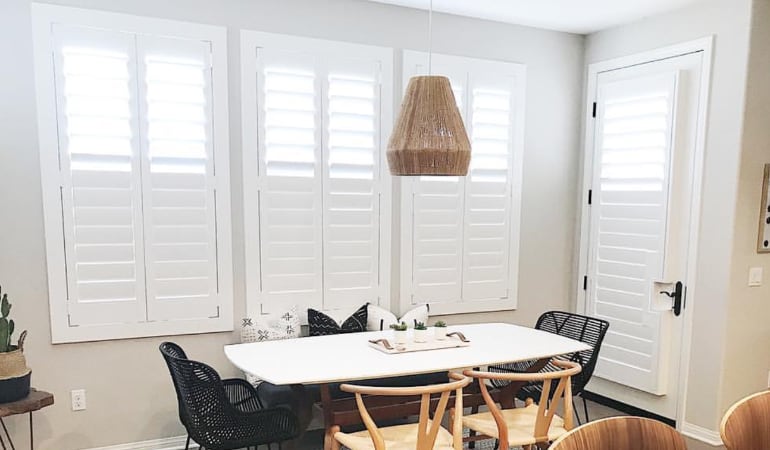 You're In Charge Of Light And Airflow With Interior Shutters
Similar to double-hung windows, you can open plantation shutters two different ways: swing the hinged panels to allow complete light or keep the panels closed and move the louvers with the tilt bar for privacy and filtered light. Either way, you welcome in fresh air when you open the top or bottom sash on traditional double-hung windows. For the best air circulation, swing the shutters open and move both the upper and lower sashes so a cooler breeze enters under the lower sash, and warm air escapes through the upper section.
Interior shutters are versatile enough to work with double-hung windows with tilt capability. Open your shutter panels and tilt your windows open for a rush of fresh air. If you think about it, ask the installation team about mounting the shutters with an outside mount so you can crack the panes open a little bit with the shutter panels shut. Don't forget, you can still tilt the louvers to control privacy and light.
You also have the choice to use a fixed rail within your panels. This allows you to open one section of the panel to let in the light while leaving the other half closed to protect your privacy.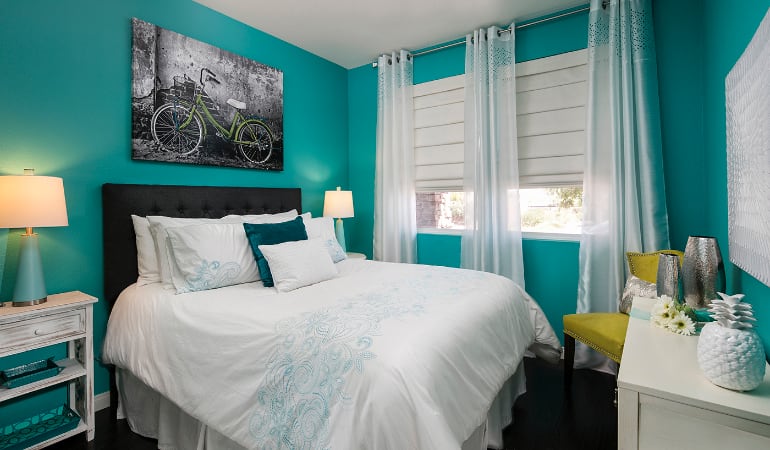 Ensure Airflow and Privacy With Top-down/Bottom-up Roman Shades
Top-down/bottom-up Roman shades can be moved down at the top or up from the bottom, in a similar fashion to your double-hung windows. For this reason, they are an excellent choice for double-hung windows when you're looking for increased lighting and air circulation without the whole neighborhood looking in at you.
You can open the tops of your windows and pull down the top of your Roman shade to welcome air and sunlight while still blocking views at the bottom of your window. Or crack open both the window and shade at the top and bottom for optimal airflow while keeping the majority of your window blocked.
Since you can keep your window shades fully expanded much of the time, it's smart to select a product as beautiful as Roman shades. Their soft pleats and many color, pattern, and material options make Roman shades an elegant accessory for your Dallas home that you'll want to show off.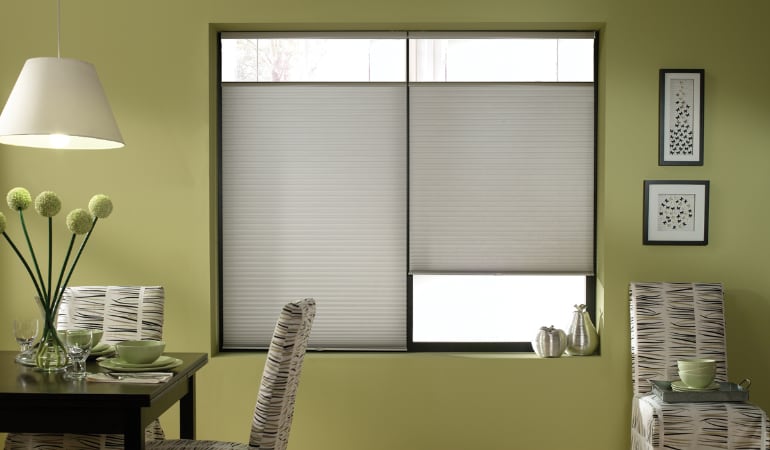 Protect Your Home's Comfort With Top-down/Bottom-up Honeycomb Shades
Double-hung windows are great for airflow when it's nice outside, but those adjustable sashes can lead to more drafts than other installations. One solution is top-down/bottom-up cellular shades. Commonly referred to as honeycomb shades, this treatment features little compartments or cells that catch exterior air entering around your sashes.
This smart process also helps prevent inside air from leaking out. Considering this benefit, cellular shades help make your interior temperature stable and your energy costs low.
The energy-conserving functionality makes honeycomb shades appropriate Dallas window treatments on double-hung windows all year long. You can adjust them to match with your windows for a gentle breeze when it's nice out and close them to protect your Dallas windows from excessive heat or cold when faced with seasonal weather fluctuations.
Contact Sunburst Shutters Dallas About Window Treatments For Double-hung Windows In Dallas
Take full advantage of your double-hung windows with exceptional window coverings from the experts at Sunburst Shutters Dallas. Our consultants will provide the information you need on our vast array of product choices and implement the right window treatment for your Dallas home. Call us at 214-301-5066 or submit the form on this page to get started on your project.