Great Nursery Window Treatment Ideas In Dallas
If you're expecting a child in Dallas, you hope to have every aspect of your new baby's nursery just right -- and that includes the window treatments. But in advance of selecting any window treatment, keep in mind that versatility and safety matter. Newborns can pull down curtains or get entangled in blind cords. These coverings don't stop exterior light and drafts for good sleep either. As an alternative, choose safe, energy-efficient interior shutters or cellular shades as window treatments for your nursery in Dallas.
Plantation Shutters Will Keep Your Nursery Safe, Cozy, And Stylish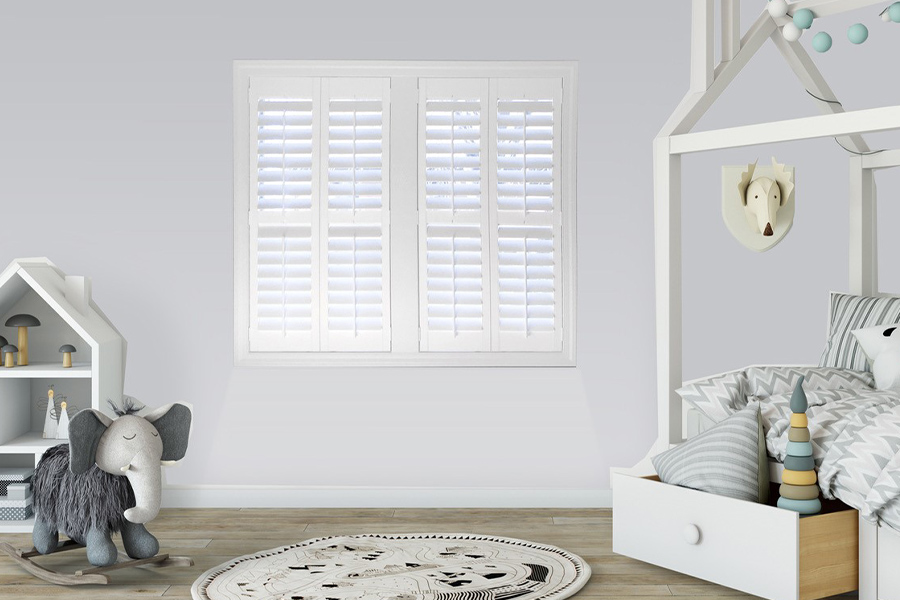 Plantation shutters may not be first on your list for nursery window treatment ideas in Dallas, but they really are the best choice! These time-tested window treatments look incredible in every room. Their sturdy panels create an eye-catching complement to the fluffier furnishings usually associated with a child's nursery. You could use
white faux wood Polywood® shutters
in rooms with vibrant or pastel color choices. Stained hardwood shutters could be a better option in the event your nursery consists of more natural pieces or you want to match the current wood trim. And when you modify the decor as your loved one gets older, your shutters will still coordinate with the room's refreshed look.
Plantation shutters utilize a specialized construction that makes them suitable for children's spaces. In lieu of hanging curtains or cords for a baby or toddler to pull on or become entangled with, interior shutters feature rigid panels with rows of louvers incorporated into a frame that surrounds the window. They even clean up easily when they get those inevitable smears from tiny fingers.
Shutter panels and slats provider a few different methods for adjusting sunlight and privacy in your child's space too. Swing back the panels for a sun-filled spot to play or secure them and tilt the louvers up to welcome partial sunlight and angle it to the spot where your child plays. Then secure the panels and louvers to keep out nearly all outside light for whenever it's sleepy time.
Closed plantation shutters keep out cool breezes as well. Air won't get past natural wood and faux wood like it will through fabric window treatments. And our 5-star Ovation® and Polywood shutters utilize industry leading craftsmanship to diminish openings where air might get past. Polywood shutters also feature the best in weather protection that causes them to be the most energy-efficient nursery window treatments in Dallas and ensures your nursery is always comfortable for a soothing slumber.
Cellular Shades Bring Efficiency and Color To Nursery Windows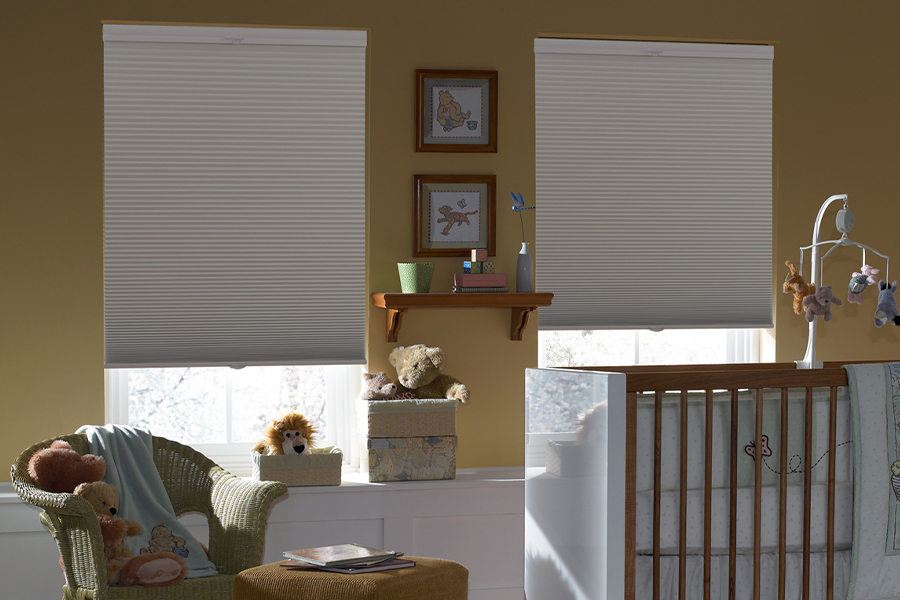 If you would rather a softer option for your nursery window treatments,
try cellular window shades.
These window coverings come in different patterns, materials, and colors for you to pick from. You'll even come across styles like top-down/bottom-up shades that provide more versatility with sunshine and privacy or non-corded shades that your little one won't become ensnared in.
The top asset of cellular shades is their energy efficiency. Their unique design features compact honeycomb-like cells that catch air going through your windows before it enters the nursery. They help keep the the space at a comfortable temperature and utility costs within reason.
Need Additional Nursery Window Treatment Ideas In Dallas? Speak With Sunburst
Regardless of whether you want nursery window treatment ideas in Dallas or window treatments for a separate area of your home, Sunburst Shutters Dallas has the answer. We carry a variety of window fashions that make your home more stylish and comfortable. Call us at 214-301-5066 or complete the form below to schedule a no-cost on-site appointment and explore amazing window treatments in Dallas.