The Best Living Room Window Treatments In Dallas
A great deal of Dallas residents design their living rooms for gatherings and celebrations, others for casual lounging. Either way, the best window coverings will create an area that is more appealing and comfortable. Treatments like plantation shutters and shades add style while helping eliminate drafts and glare.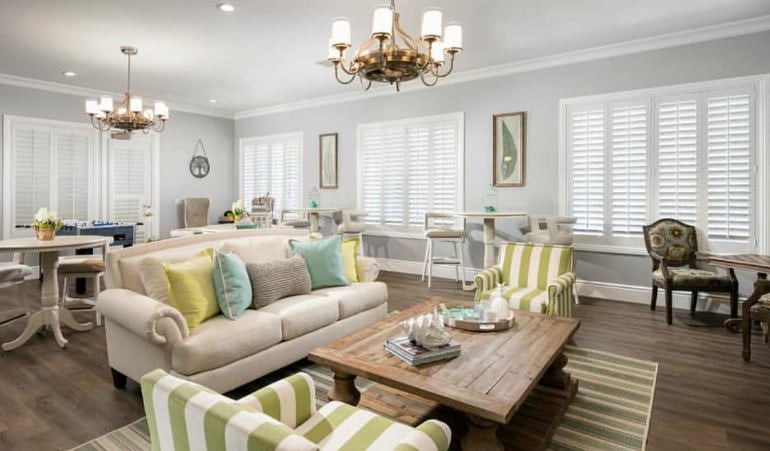 Plantation Shutters Control Light And Interior Temperature
For many Dallas homeowners, the living room is used as a multifunctional area where they entertain guests, watch TV, play, and relax. Popular plantation shutters can help everyone enjoy your living room. Polywood® shutters and premium wood shutters are durable and low maintenance for families with small children and dogs but with plenty of style to make an impression. The wide louvers are impressive and need only a quick wipe to get rid of messy fingerprints or dust before you have company over.
The fully adjustable slats also allow you to manipulate the light in your living room. When you don't want full sunlight, swing the shutters closed and adjust the louvers to get the sun's rays away from your guests or off your television. Or shut them completely when the sun is in full force to keep your space comfortable.
If your home is like others, you have large picture windows or multiple windows in the living room. These bring in the or the day and cold drafts. While picturesque, they are known for letting in the sun's heat and cooler drafts. They add beauty but also allow heat and drafts that run up your energy bill and make you uncomfortable. If you're searching for efficiency in living room window treatments in Dallas, think about the benefits of interior shutters. Polywood® products minimize the impact of drafts and the sun's heat better than other window treatments to maintain a comfortable space for your daily life.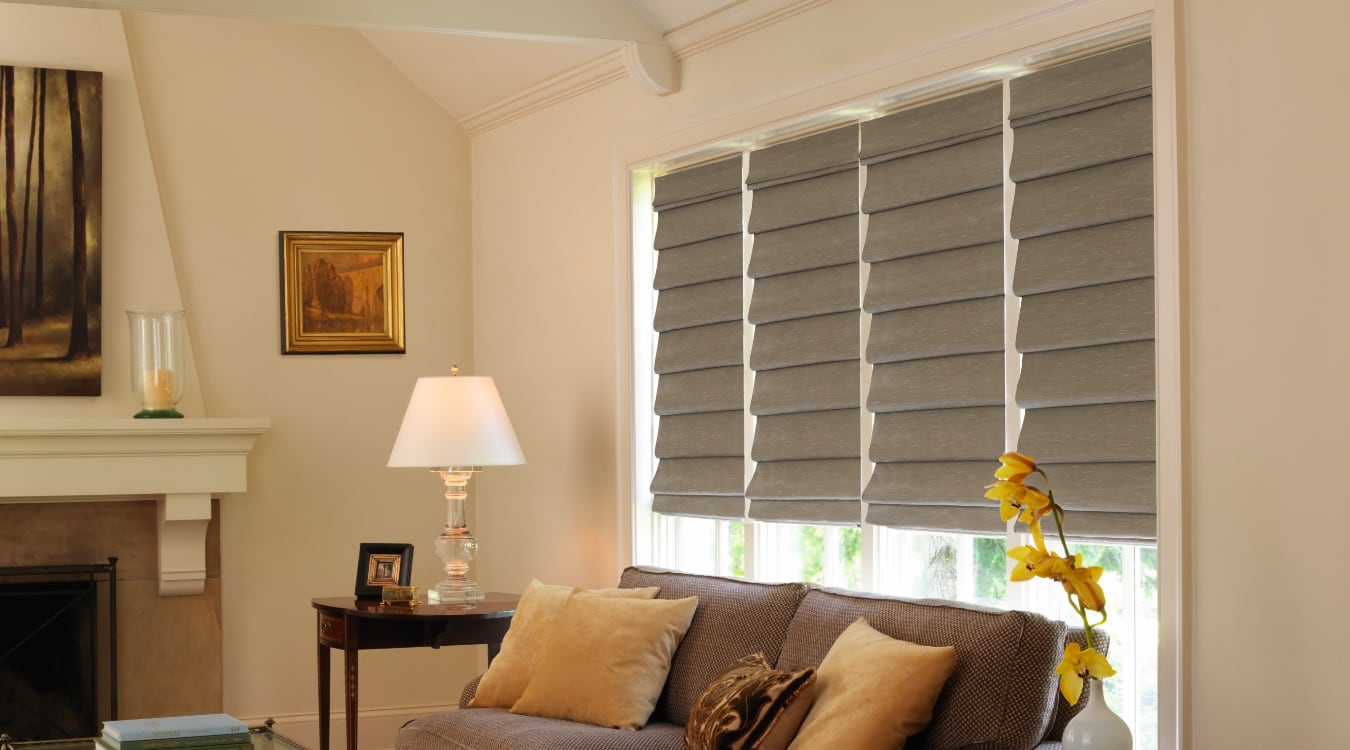 Roman Shades Combine Elegance With Functionality
If you have a formal living room, you might be interested in unique window products not found in other rooms. Keep in mind, there's no need to trade functionality for appearance. You will enjoy the best of both worlds with beautiful Roman shades.
When you open Roman shades, the material gathers horizontally but without the inconvenience of holdbacks like curtains or drapes. Alternatively, Roman shades open and close with a lifting mechanism that can be corded or cordless. You can also select motorized options so you don't have to stop what you're doing to adjust the shades can adjust your shades with the touch of a button. You don't need to step away from your guests to go open a shade. You can find Roman shades in an array of styles and colors to perfectly complement the existing decor of your living room.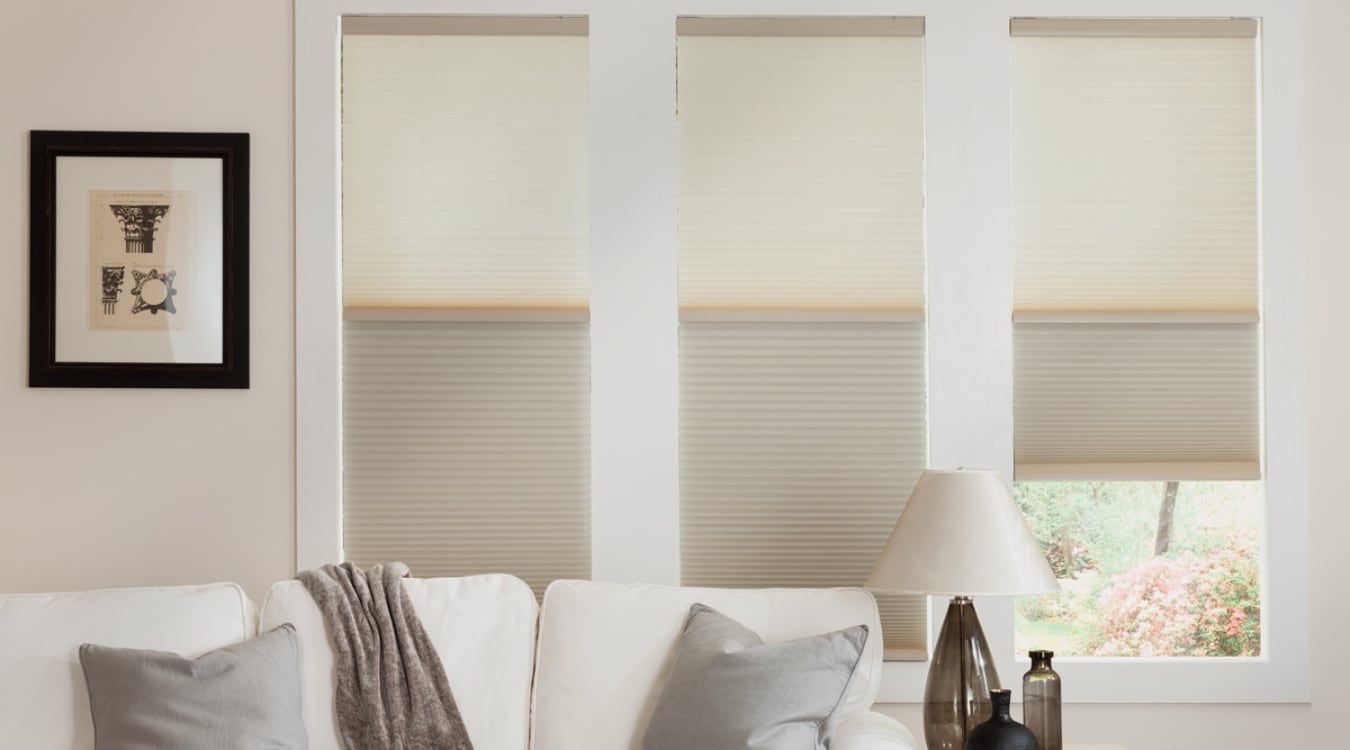 Cellular Shades Boost Your Home's Efficiency
Another solid choice for energy-efficient living room window treatments in Dallas are cellular shades. The built-in fabric compartments capture air to minimize drafts within your space. This important feature will add to your warmth when you're relaxing on a chilly winter afternoon on your favorite sofa and keep you cool throughout the warmer seasons when you're hosting a party.
If you pick cellular shades, don't be concerned about how they look. They come in numerous colors, textures, and pleat sizes to complement your interior decorating scheme. You can also choose between blackout or transparent materials and various options in between to accomplish your goals of natural light and privacy. For added convenience and functionality, look for window shades that open at the top to allow light while maintaining coverage on the lower half to ensure privacy.
Time to Upgrade With The Best Living Room Window Treatments In Dallas? Consult With The Pros At Sunburst Shutters Dallas
Bring style and energy savings to your Dallas living room with finely-crafted window treatments from Sunburst Shutters Dallas. Our window experts will help you explore your options and offer tailored suggestions for your living room. To schedule a no-obligation, free appointment in the comfort of your home dialreach out to 214-301-5066 or complete the form on this page.