How to Combine Window Treatments in Dallas Homes
For some Dallas homeowners, a single window treatment on certain windows might not be enough. Whether it's to achieve a certain aesthetic, improve heat and light blocking ability, or any of a variety of other reasons, combining window treatments has become a common practice.
So which window treatment combinations work best to give your home stunning looks and top-notch window coverage? Let's highlight some of the most popular combos for Dallas homes.
Combining Plantation Shutters with Drapes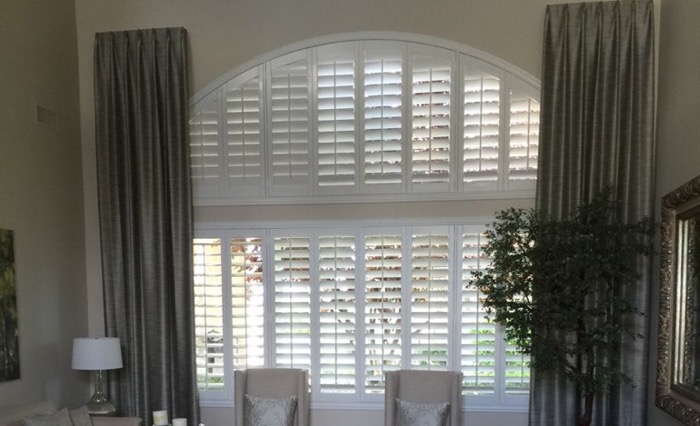 Plantation shutters
and drapes are one of the most trendy and commonly-paired window treatments we usually see in Dallas homes. The reason for that is simple: they give homeowners the most "wiggle room" with regards to privacy, looks and light control. Plantation shutters are great for bigger windows, since they can protect your privacy while simultaneously letting in a good amount of light. Occasionally, however, you may want to add a splash of color or give a mite more warmth to the space–that's where a drapery can help. An added set of drapes can imbue the room with color, give your space a softer look, and give a tasteful frame to your shutters.
The drapes you pair with shutters don't have to be heavy-duty, highly functional window coverings when accompanied by shutters, either. Even accent drapes on the sides of a window can get the job done, as the plantation shutters give your windows more than enough coverage.
To see how influencer Denise Cooper of
Be My Guest with Denise
styles her interior shutters with drapes, watch this video.
Pairing Shades with Draperies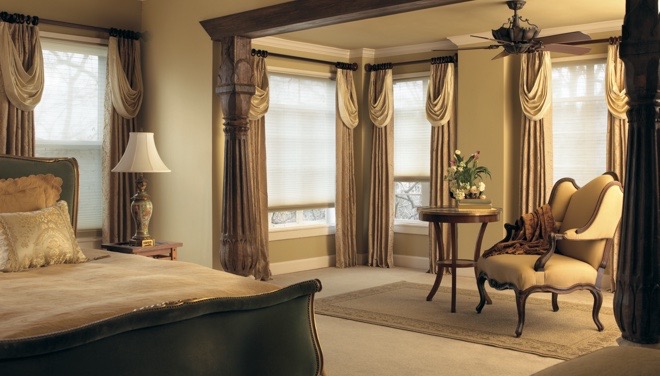 A combination of shades and drapes can give a room a classy look, ideal for living rooms or bedrooms. What gives this pairing such appeal is in the varying textures that are achievable, particularly with roman or cellular shades. When you match colors but vary textures, you're able to make your room feel cozy and classy at the same time.
Window Treatments with Cornices and Valances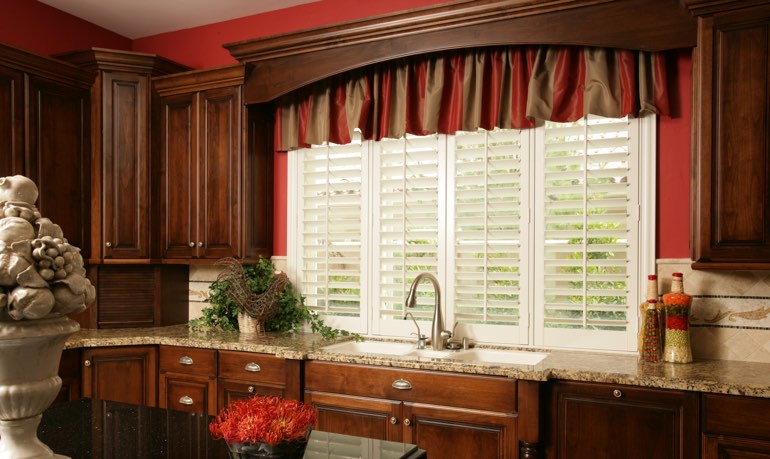 Although they're not as frequently used as they once were, valances and cornices are still used in certain houses, and can fill a great role when combined with the right window treatment. Like drapes do when paired with shutters, a cornice or valance is most likely going to be your accent piece. We suggest utilizing an interesting hue on top with a solid neutral window treatment, like Polywood® plantation shutters or faux-wood blinds. This type of pairing does incredibly well in specialty rooms like the kitchen, where you probably want a waterproof window treatment such as Polywood.
Window Film Goes with Anything
Back when it was first introduced, window film was just used to darken windows, which was tricky as it could make a space feel somewhat lifeless as well as prevent you from enjoying a clear view outside. Modern window film doesn't have these issues, as it can block nearly 80% of solar energy without impeding your view with a layer of shade.
That makes window film a great partner to other window treatments, since it can seamlessly be affixed to your window glass and drastically improve your window's heat-blocking ability. Window film can do all this while giving you free reign in how you want to dress your window, whether you choose cellular shades, plantation shutters, or another window treatment.
Could your space use a new window treatment pairing like one of these we've discussed? Call Sunburst Shutters Dallas at
214-301-5066
today to schedule a free in-home window design consultation to start giving your windows the treatment they need.