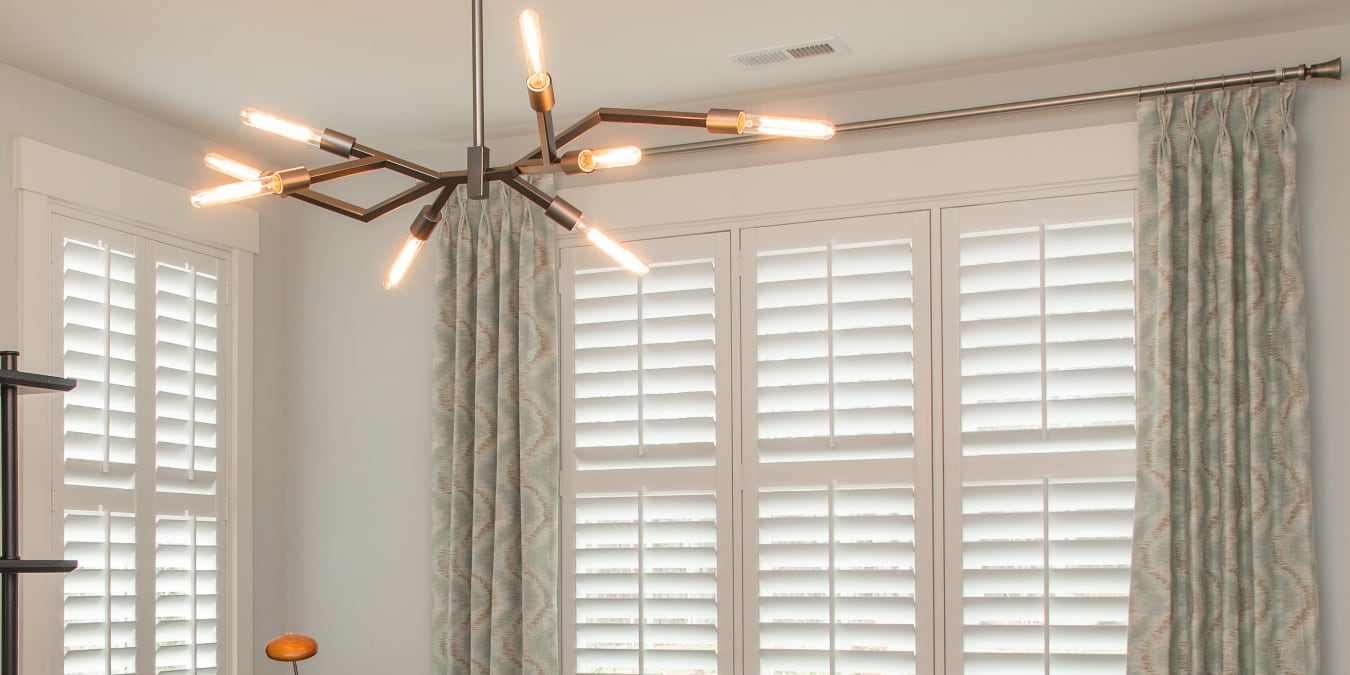 Home Office Window Treatments In Dallas That Work For You
If you are one of the many people working remotely these days, you might need some guidance in optimizing your Dallas home office. A good place to start is your window treatments. Want to see a short comparison of the various home office window treatments?
Click the button to see our window treatments chart, for window treatments perfect for your home office.
Products like plantation shutters and motorized window shades are smart home office window treatments for Dallas residents who would like to keep comfortable and focused while working without compromising your home's unique design. These treatments are even capable of helping you look good during video calls! Read how you can employ these window treatments to your best interest.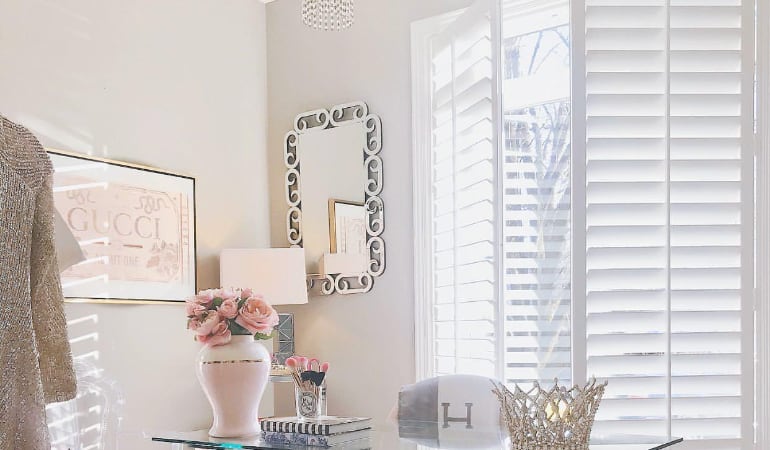 Plantation Shutters: A Top Choice In Home Office Window Treatments In Dallas
Working from home can be challenging, so pick home office window treatments in Dallas that create the most pleasant environment possible. Plantation shutters' unique design makes them a preferred choice when you'd like to manage your workspace's light and temperature.
A benefit of working from your home office is that you get to control the temperature. However, you don't want to increase your utility costs by using your furnace or AC too much. Insulating Polywood shutters are a smart alternative. When it's hot and sunny, shut your plantation shutters to reduce the interior temperature and keep the glare off your computer screen. In the winter, that insulating ability helps reduce drafts.
Looking to lower your electric costs or hate lackluster lighting? Shift the tilt rod on your plantation shutters for natural light that you can redirect from your screen and into other parts of your room. Shut them again to remove potential diversions like delivery trucks or the neighbor's dog. Keep them shut to maintain privacy at night if you end up working late.
If you want some flair in your home office, the attractive features of Polywood shutters create an elegant architectural detail that dresses up even the most ordinary windows. They are available in a variety of attractive neutral colors, too. Whether you pick classic white shutters or a more rustic looking hardwood shutter, your new home office window treatments will make you excited to work from home!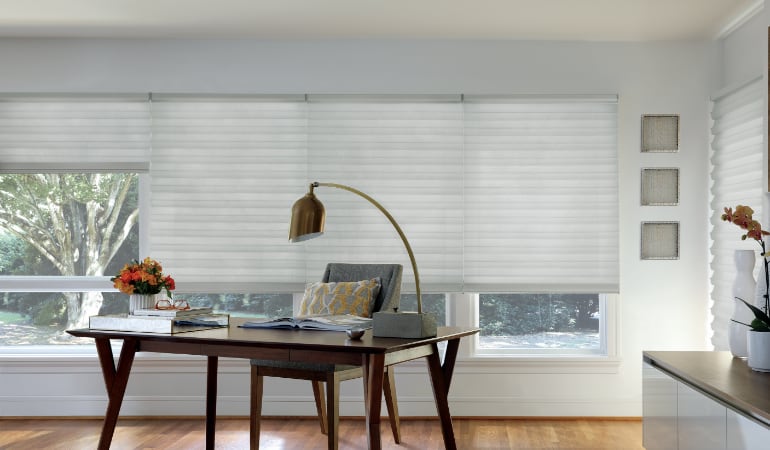 Motorized Window Shades Provide Variety And Convenience for Dallas Remote Professionals
Like interior shutters, many styles of shades offer privacy and comfort control for your home office windows. Light-suppressing blackout shades minimize sun glare. Eco-friendly cellular shades ward off those cold drafts and keep warm air in. Transitional shades let you choose between filtered natural light or total darkness.
Window shades are available in a multitude of colors and styles to fit your individual preferences and fulfill your idea of a perfect home office. You might like a distinctive option like Roman shades that provide a great background during video conferences or a simple and functional product like roller shades to avoid distractions.
If you've decided on the type of window shade you wish to install, get the motorized option to bring even more convenience to your work area. Motorized window treatments operate with a remote control instead of by hand. This provides an effortless method for adjusting the amount of light in your home office.
When the sun moves and a glare interrupts your attention, you can adjust your shades in one simple touch without getting up. If too much light is washing you out on a remote meeting, or you see that your work area resembles a dungeon on your monitor, you can let down or raise up your motorized shades right from your workstation without interrupting the meeting. Your boss and colleagues will be jealous of your remote accommodations when you customize your home office window treatments in Dallas.
Are You Still Contemplating What Window Treatments Is The Best For Your Home Workspace? We've Included This Chart To Help You When Comparing All Of Your Options.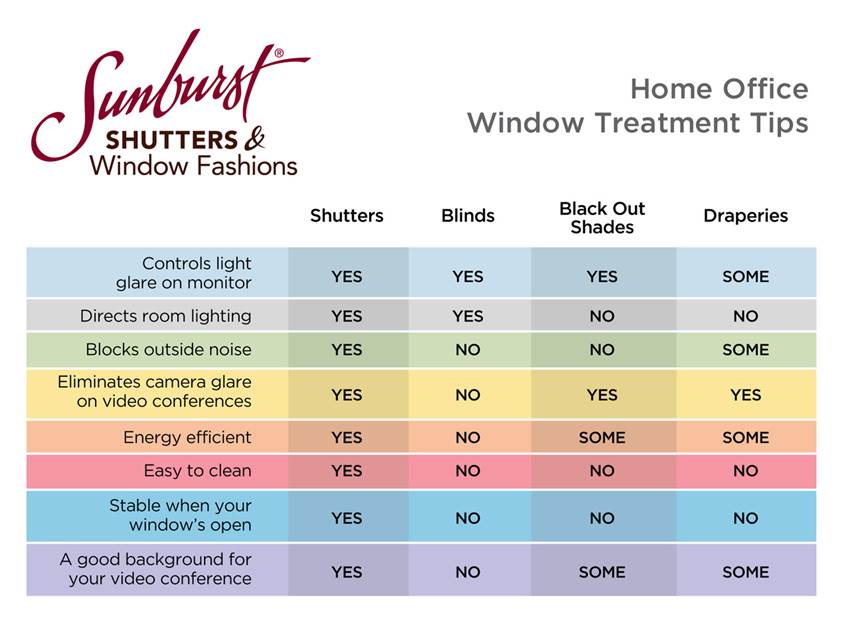 Get To Work In Your Dallas Home Office with Window Treatments From Sunburst Shutters
You can get more done during the day when your window treatments limit distractions while keeping you comfortable. Speak with the window treatment professionals at Sunburst to make the right choices for your home office. To request a free in-home consultation, contact us at 214-301-5066 or fill out the form below.