Five Suggestions To Create An Amazing Media Room In Dallas
Modern audio and video equipment makes it easier than ever before to enjoy movies, gaming, and television as you kick back in your own media room. That's why families in Dallas continue to create home media rooms. You might be wondering: What do you need to design a fabulous home media room? From the best window treatments to equipment, check out these five ideas for creating a media room in Dallas that everyone will love.
#1 Take Charge Of Exterior Light With Interior Shutters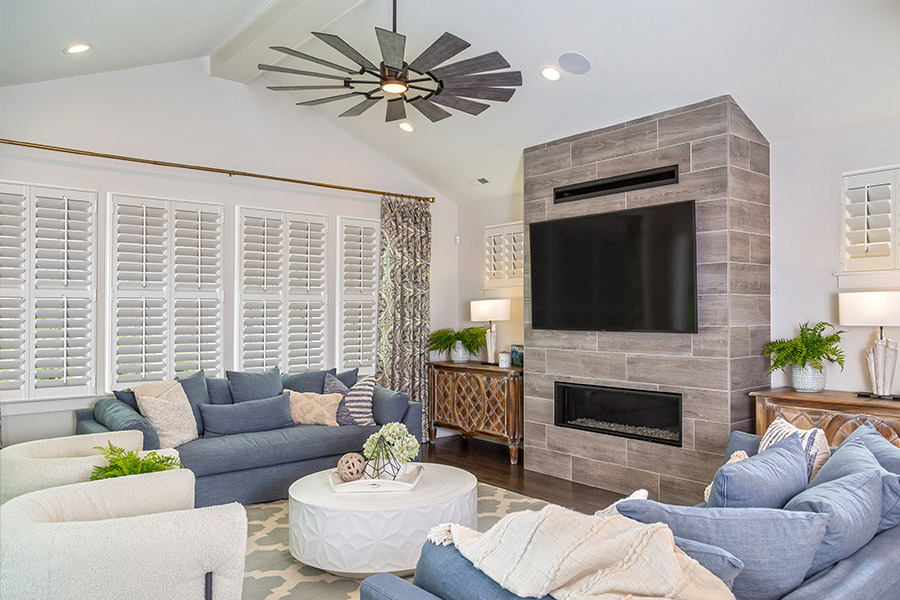 Nothing ruins your movie night like sun glare on your screen. Light dimmers help, but what do you do for exterior light? Install
plantation shutters as window treatments
in your media room in Dallas for superior light management. Plantation shutters include a frame that encloses your window to keep out outside light. These sturdy installations also incorporate hinged panels with adaptable slats that slide together tightly to provide almost total darkness. You might even tilt the slats as you wish to move exterior light away from TVs or your face without having your area appear to be an underground cavern.
In the event you use Polywood® shutters, you'll get improved window insulation too. These composite shutters block the sun's rays and cooler breezes to help your media room stay at a comfortable temperature. They can prevent as much as 30 degrees of heat transfer, saving you money on utility costs.
#2 Enhance Your Media Room's Audio Experience With A Few Minor Refurbishments
As soon as you fix the illumination in your Dallas media room, switch to the acoustics. Drywall works well for media rooms walls, but basement concrete devastates the quality of sound. The most straightforward method to minimize echoes in your lower ground media room is by putting up acoustic panels. In the event you want to resolve the sound issues in your media room, go with easy-to-install sound barrier or absorption products. You can combine those with window treatments, like shutters, to block out noise from outside.
#3 Invest In The Right Devices
The proper equipment will give you superb audio too. Begin with your surround sound configuration. Many homeowners like devices with Wi-Fi capability as you won't have to trouble yourself with running wires.
Don't forget about getting a high-def TV. Popular LED options have brilliant pictures, but 4k TVs generally have greater contrast levels and extremely wide viewing angles. You might also choose a projector-screen combo for that movie theater experience in your media room. Whatever TV you pick, install it further up your wall for the best viewing angle.
#4 Find Cozy Furniture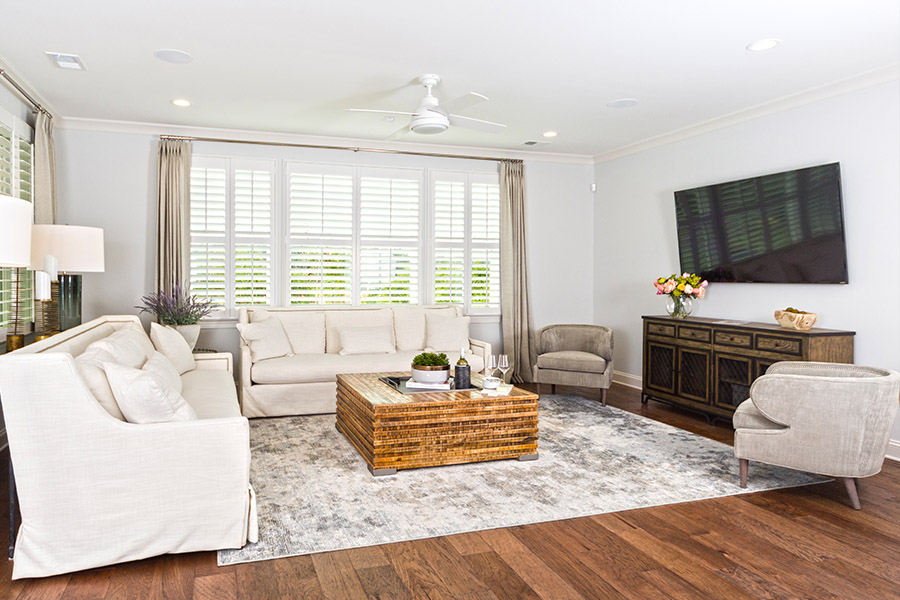 You can't take pleasure in the big game without a comfortable seat. If your goal is home theater vibes, look for the appropriate chairs with reclining backs and incorporated drink holders. For gamers, invest in the right number of gamer chairs. An oversized sectional is a smart choice too. While you're at it, add a few blankets and maybe a pillow or two to hunker down for those nights of binge watching.
#5 Redecorate With Your Favorite Theme
Customize in any way you would like when creating a media room in Dallas. Do you associate with a particular sports team? Do you want to feel like you're inside an actual theater? Oversized movie posters, a vintage popcorn trolley, and bold colors should promote the purpose of your media room.
If you're looking for a more subtle appearance, design around your choice of color palette. Warm colors with wood trim and coordinating Ovation® shutters will make your media room feel cozy. Or make it feel open and inviting with more neutral colors and Polywood shutters.
Talk To Sunburst About Window Treatments For Your Media Room In Dallas
The experts at Sunburst Shutters Dallas can help you select the perfect window treatments for your media room. At your complimentary on-site appointment, we'll present how different solutions look in your space before you make your final selection. Request yours today by reaching out to 214-301-5066 or by submitting the form below.