8 Ways to Use Reclaimed Wood in Your Dallas Home
Dallas people adore reclaimed wood and the décor statement it makes. It's a fashionable way of upcycling weathered wood and, at the same time showcasing your individual style. Reclaimed wood products tend to make a favorable impression whether you use it on a wall, your cabinets, or – yes! – your windows. In need of a bit of reclaimed wood inspiration? We've got 8 incredible ideas for you – each and every one applied to gorgeous effect in Dallas homes.
1.Reclaimed Wood and Windows
For the first time ever, you can easily own reclaimed wood as a window treatment. Sunburst Shutters now offers a plantation shutter crafted from the best possible reclaimed wood. As a matter of fact, Sunburst is the lone company offering you reclaimed wood shutters in the Dallas area. We took the reclaimed wood you want and used it to engineer a louvered shutter that's both beautiful and functional.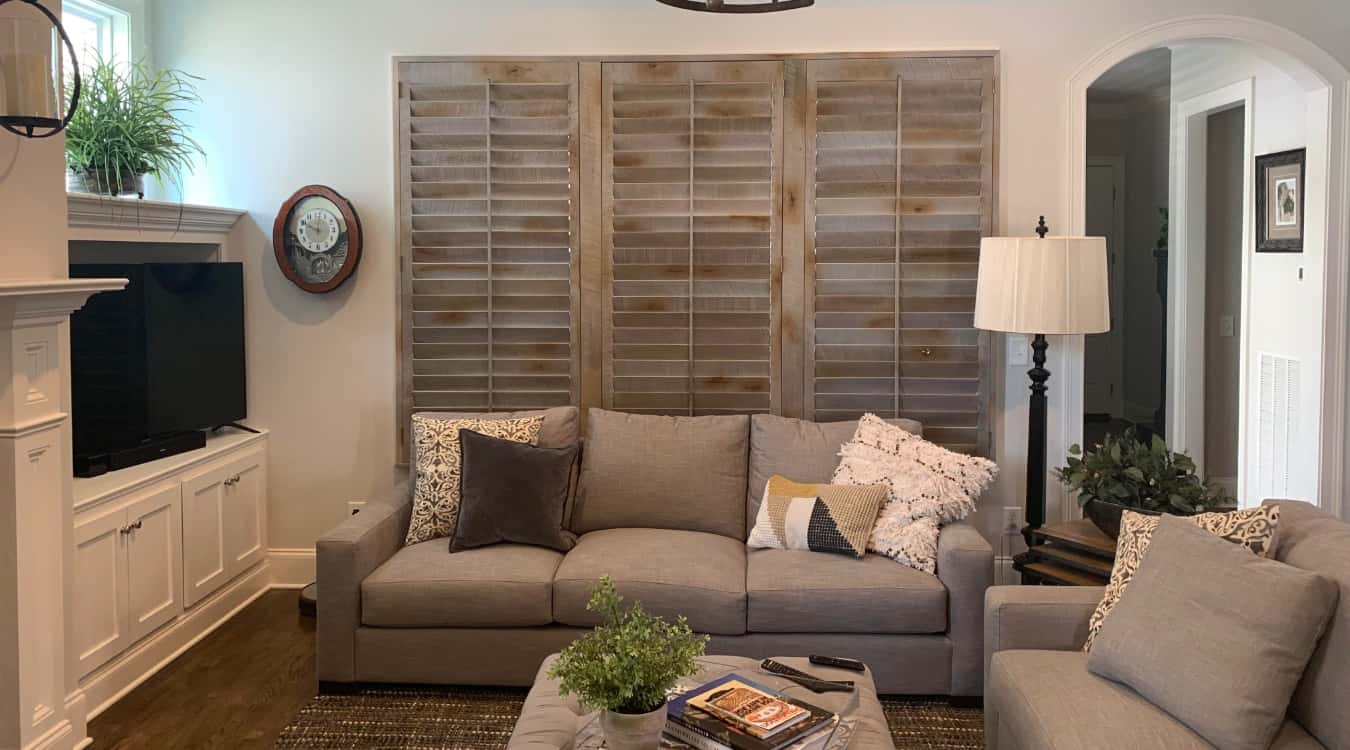 Reclaimed wood can make for a most unique window treatment. You know you're ahead of the game, certainly, when your reclaimed wood shutters are viewed by many as valid artistic pieces in and of themselves. And Sunburst ensures that they are. You'll find joy in their smooth, simple operation as well as their look. Tilt the louvers open to let more light in. And tilt them closed to better reveal the weathered look of reclaimed wood on your window. If we've caught your interest, you'll want to look a bit more into reclaimed wood for windows in Dallas
2. Walls of Reclaimed Wood
Nothing brings the outside in as wonderfully as a reclaimed wood wall. Reclaimed wood paneling invigorates a wall without overpowering it and imparts a cozy ambiance to the room. It doesn't matter if you have a TV, bookcase, fireplace, or artwork to complement, a reclaimed wood wall will look fantastic behind it and provide precisely the effect you you desire.
3. Reclaimed Wood for Your Floor
Want to redo a floor in your house? Wood flooring of just about any type can warm up a room, but flooring of reclaimed wood has a unique beauty perfected in the time – typically decades – the wood has remained outdoors. Whether you're partial to being outside in nature or merely one who likes the look of weathered wood, you'll be blown over by what a reclaimed wood floor can do to make your home come alive.
4. Reclaimed Wood and Cabinets
Considering the greater availability of reclaimed wood, now is the perfect time to do over your kitchen cabinets. It's the natural way to revive your whole kitchen. Each panel of reclaimed wood conveys a remarkable tale – of long years hidden away in an old building, for example, or in the crumbling structure of a barn or fence. And a small part of that narrative will live on in your reclaimed wood cabinets, called forth whenever you and others admire them.
5. Reclaimed Wood for Tables
Tabletops built of reclaimed wood can lend a ultra-current, decidedly fresh touch to your dining room or home office. Meld the reclaimed wood's natural tones and textures with your décor to achieve a consistent, agreeable look that satisfies your creative vision – as it leaves your guests in stunned admiration!
6. Reclaimed Wood for Bookcases
However else we may regard them, books make marvelous decorative pieces. Leather, vinyl, buckram, or paperbound books and those with colorful dust jackets look good on a coffee or end table, on a bookshelf, or in a large bookcase. Their delightful variety is both called out and unified in bookcases of genuine wood, too. And bookcases of reclaimed wood, because of their natural colors, knots, holes, scratches, and other telling features, prove to be an especially distinctive, one-of-a-kind showcase.
7. Picture Frames of Reclaimed Wood
The soft-hued, natural look of reclaimed wood is wonderfully apt for picture frames. It's just what's needed to show off your favorite artwork and most cherished photos in a uniquely impressive manner. It's worth noting, too, that frames of reclaimed wood can be put together in a variety of styles, so they'll harmonize with almost any look you've established for your home.
8. Use Reclaimed Wood for Your Headboard
Not much can reinvent the ambiance of a bedroom like a intelligently designed and constructed headboard. These days, when renovating, people are just as inclined to attach a headboard to the wall behind their bed as they are to fasten one directly to the bed itself. Either way, a headboard consisting of reclaimed wood planking can be quite beautiful. It's natural tones and effects of weathering make it well suited to a seemingly infinite number of styles, from antique to modern. With reclaimed wood, you'll find you have no limits on your imagination to get in the way of you realizing the headboard that dreams are made of!
Inspiration Comes Easy with Reclaimed Wood
Our goal was to inspire you with these 8 ideas for using reclaimed wood. That said, we have plenty of other ideas kicking around – ideas that pair exquisitely with the reclaimed wood shutters we alone provide in Dallas. Our professionals would be pleased to show you samples of our shutters, answer your questions, and provide you with a range of other superb design ideas. Give us a call at 214-301-5066 to schedule your free in-home design consultation at your first opportunity!